Luke Winter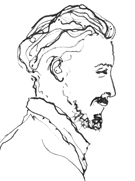 | luk ˈwɪntə(ɹ)™ |
noun
1 Copywriter: attracts audiences. builds brands to believe in. crafts connections. distills, delivers, delights. excites emotion, eloquently. fosters fans. grabs attention. hunts headlines. inspires imaginations. jabbers jingles. kindles consumer kinship. loves language. makes messaging meaningful. narrates novelties. optimises the opulent in the ordinary. persuades. quick quilled. redefines reality. simplifies. tells tremendous tales. elucidates the unutterable. vagabond of the vernacular. wordsmith. x-hibits versatility. yaps, yelps, yammers. zings.
ORIGIN late 20th cent.: from eBay UK, McDonalds Canada, Associated Press.
SYNONYMS innovative, pragmatic, tenacious.
DERIVATIVES
story-maker,
adventurer.
SEE ALSO curriculum vitae.